Prince George and the rest of the Royal Family attended the Easter service at St George's Chapel at Windsor this past weekend.
It was an emotional gathering that marked the first time the royals had returned to the chapel since Queen Elizabeth's funeral, when the late monarch was laid to her final rest beside her husband, Prince Philip.
George and his father, Prince William, wore blue suits, and all signs reportedly appear to point towards the idea that the young prince is now beginning to take on certain responsibilities. In less than one month, of course, the nine-year-old will have a very special role at his grandfather King Charles's coronation.
A body language expert noted that Prince George seemed to take on a more mature role during the Easter service, but there was something else that got a lot of royal enthusiasts talking.
Fans took to social media after new pictures were published of young Prince George, leaving all astounded regarding how much he has grown.
It makes sense to assume that Prince George is steadily taking on more and more responsibility within the Royal Family. His future is directly tied to the crown – one day, he will be king.
In July, George will turn ten. Reports suggest that his parents, Prince William and Princess Catherine, have already given him insights into what his future will be like, and that they are beginning to prepare him for what is coming.
In less than a month, George's youngest sibling, Prince Louis, is set to make his big entrance on the royal stage when he joins the procession to and from Buckingham Palace to see King Charles and Queen Camilla officially crowned at Westminster Abbey. Louis was too young to attend Queen Elizabeth II's funeral, but he will join his siblings to celebrate their grandfather's coronation.
Prince George given prominent role at King Charles' coronation
For Prince George, it will surely be an unforgettable day. After much speculation, it's been made clear that he will have a great and honorable part to play in the proceedings. The future king, now second-in-line to the throne, will be a Page of Honor.
That means holding King Charles and Queen Camilla's robes during the ceremony – expected to be around two-and-a-half hours long – as they walk together through Westminster Abbey.
As reported by the Mirror, the Pages of Honor will wear a scarlet frock coat with gold trimmings, a white waistcoat, hose, white gloves, black shoes, a lace cravat, and ruffles at the coronation.
There will be seven other pages alongside George, including three of Camilla's grandchildren, Freddy Parker Bowles, Gus Lopes, and Louis Lopes.
"Throughout the Coronation Service on 6th May, Their Majesties will each be attended by four Pages of Honour. The Pages will form part of the procession through the Nave of Westminster Abbey," a statement from Buckingham Palace read.
"The King's Pages of Honour will be His Royal Highness Prince George of Wales, Lord Oliver Cholmondeley, Master Nicholas Barclay and Master Ralph Tollemache."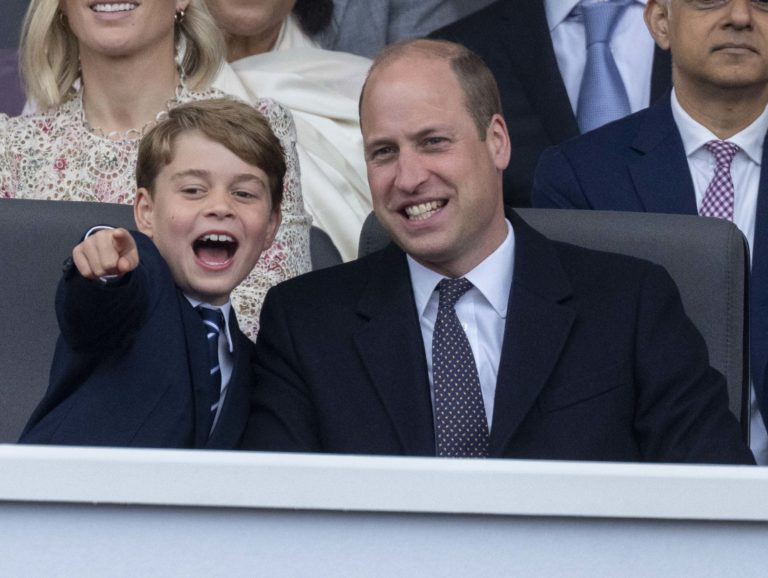 Lord Oliver Cholmondeley, 13, is the son of former Lord Great Chamberlain David Cholmondeley, 62. Nicholas Barclay is the grandson of Camilla's friend, Sarah Troughton, and finally, Ralph Tollemache, 12, is the son of Charles's godson, Edward.
"The Queen Consort's Pages of Honour will be Her Majesty's grandsons, Master Gus and Master Louis Lopes and Master Freddy Parker Bowles, and Her Majesty's great-nephew, Master Arthur Elliot," the statement continued.
William and Kate 'had arguments' over Prince George's coronation role
Buckingham Palace shared the official Coronation invitation, sent to more than 2,000 guests. The invite was reportedly printed on a recycled card, a nod to King Charles' passion for sustainability.
"The Coronation of Their Majesties King Charles III and Queen Camilla. By command of the King the Earl Marshal is directed to invite [name] to be present at the Abbey Church of Westminster on the 6th day of May 2023," the invite reads.
Yet while it's been rumored for months that Prince George would be getting a significant role at the coronation, the young prince's participation at his grandfather's big event has reportedly sparked a "bit of an argument."
One expert even claimed that Prince William and Kate Middleton are worried about the pressure being placed on the young royal's shoulders.
According to royal commentator and author Tom Quinn, William and Kate are worried that the pressure might be too much for the young prince so early in his life.
"I've heard from my contacts that there is a bit of an argument going on about whether George should play a more formal role," Quinn told the Express. "I've heard that Kate and William are worried that it will be too much for him."
A royal source also spoke with People about the possibility that William and Kate feel like they are putting too much pressure on their son.
They are "cognizant that he is old enough to understand what's going on," the royal source said. "But they're mindful that normal life resumes when George is back at school with his classmates the following week, where the weekend's events will likely be the talk of his classmates."
"It will be an incredibly special moment"
Prince George will be joined by his siblings, Princess Charlotte and Prince Louis, in the procession from and to Buckingham Palace that is reserved for the more senior members of the Royal Family. The same goes for the balcony appearance when they return to Buckingham Palace.
Though Prince William and Princess Kate are said to have been worried about how a more prominent role at the coronation might negatively affect George, they appear to have softened their stances over the last few days. As per speculation, this was likely after their son showed a "deep interest" in his grandfather's coronation.
"We're all very excited about Prince George's role in the coronation, it will be an incredibly special moment," a Kensington Palace spokesperson said.
Meanwhile, Prince Charlotte and Prince Louis will not have any particular roles in the Coronation. The simple explanation is probably that they are too young, though the siblings will be there to see their grandpa symbolically crowned king.
Prince George has already been seen on several big royal outings. He joined his family for the Christmas Day church service in Sandringham, and last year, he was also present for the traditional Easter Sunday service. Yet compared to last year's Easter showing, the young prince appeared to behave very differently at the same event this past weekend.
As he gets older, George is naturally taking on more responsibility – and it showed as the family left St. Georges Chapel at the Windsor grounds on Sunday.
Last year, Prince George was guided by his parents, but this time, George took the lead, walking in front of his family at the Easter Sunday Service. The royals gathered for the special day, which took on a new level of emotionality this time around.
Prince George takes on "grown-up" role at Easter Sunday service
Queen Elizabeth II was laid to rest at St. George's Chapel last year. The Royal Family's return to the Windsor grounds marked the first big royal event to take place at the 15th-century chapel since Her Majesty's death.
Prince William, Kate Middleton, and their three children attended the Easter Service together with King Charles and Queen Camilla.
Kate wore a blue coat, while Princess Charlotte sported a blue polka-dot dress. Prince William and Prince George wore navy suits, while Prince Louis, who attended the service for the first time, wore a suit jacket and light blue shorts.
Several other Royal Family members also attended the service. Princess Eugenie and Jack Brooksbank arrived at the chapel holding hands, and were accompanied by Prince Edward and Princess Sophie – the Duke and Duchess of Edinburgh – alongside their son James, the Earl of Wessex.
Others attending the service were Princess Beatrice and her husband, Eduardo Mapelli Mozzi, as well as Zara and Mike Tindall and their two daughters, Mia and Lena.
This year's Easter Sunday Service marked quite a change in Prince George's behavior. Body language expert Judi James noted that the nine-year-old prince showed a new "grown-up" dynamic. He walked ahead and led his family, compared to last year when he stood steady between his parents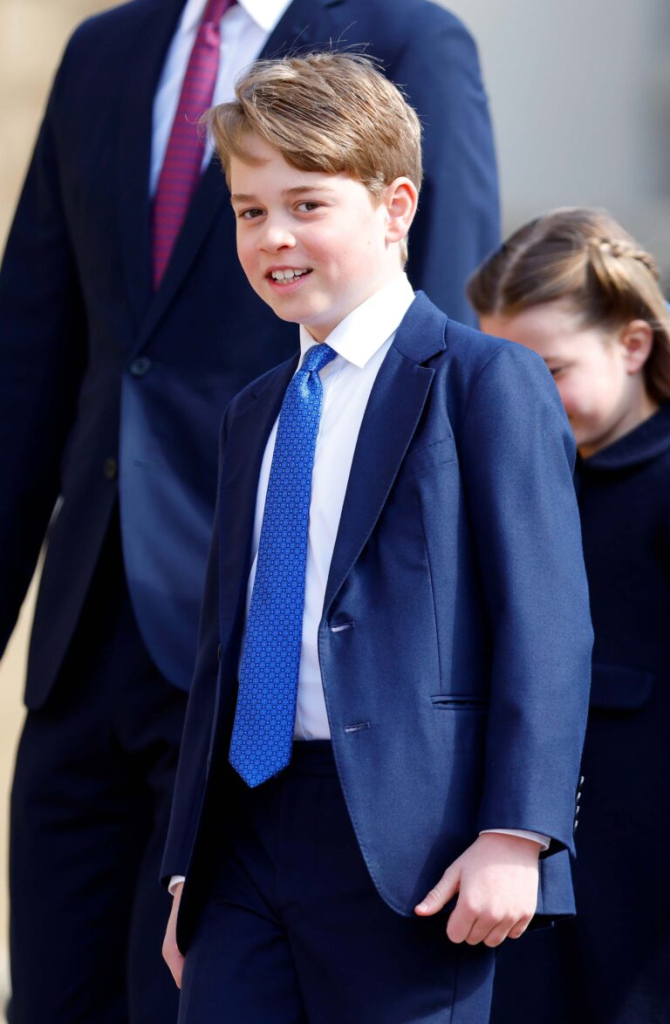 "At this Easter service there was a status step-up from George, who walked ahead to lead his family into the service, showing a newly grown-up dynamic from the five Wales's when it comes to royal outing," Judi James told the Daily Mail.
"George used to be the one holding his father's hand and looking rather timid, but here it was Charlotte walking in alongside William while Kate held Louis's hand beside them."
Prince George took lead when leaving St George's Chapel
She continued: "Even this family pecking order had its own upgrade, though, as Charlotte turned to look at her younger brother with what looked like a small checking gesture and then a beam of pride at his impeccable behaviour. On the way out of the service, it was Charlotte mirroring her mother, walking beside Kate and offering her own shy wave to the crowds in a gesture that showed who she takes her own lead from."
Moreover, James continued by saying that Louis was a "very different boy" compared to what royal fans saw at the Queen's Platinum Jubilee last year. The images of the young prince making facial gestures at his mother, Kate, on the Buckingham Palace balcony will live long in the memory.
Yet as he walked beside his mother at the Easter Sunday service, body language expert James stated that Louis looked "serious and confident."
"Kate looked down at Louis with a grin of pride before smiling back up at the crowd as though sharing her admiration for his grown-up behaviour. Louis even appeared to look down to straighten his tie as he entered the chapel," James explained.
"George was the first of their party out after the service, shaking hands without any prompting."
Besides the fact that Prince George seemed to have taken on a much more prominent and grown-up role for the Easter Sunday service, royal fans also reacted to the new pictures of him.
Royal fans are astounded by how fast Prince George is growing – new pictures
They couldn't help but notice that Prince Geoge is getting very tall – and that his confidence indeed is showing through.
"George has gotten so tall!! All three have. But I can't believe he's going to be ten!!," one person wrote, as reported by the Mirror.
"Prince George is a tall, solid looking lad which is what the Spencers were! Definitely a similarity to Prince George! Diana's brother & in particular her father," a second person stated.
"Prince George is going to be a tall man!" a third fan wrote. A fourth added: "Prince George is getting SO tall!! He's nine years old!"
It sure looks as though Prince George is growing quickly (no surprise considering the respective heights of his parents – William stands at 6ft 3in, and Kate at 5ft 9in).
By the time George is fully grown, we might even get a new royal record. King Edward IV is the tallest king in English history on paper, standing at 6ft 4 ½in.
Please, share this article on Facebook if you enjoy reading about the royals!