Every child enjoys presenting their parent with a gift they have made themselves. They eagerly await their parent's reaction and verdict. And while almost anything a child presents their parent with is cherished, this 9-year-old boy's gift was wonderful…
He spent so much time and effort on his present, and his father's reaction was well worth it.
A 9-year-old Massachusetts boy is a sensation all over the internet because of something endearing he did. Aaron Gouveia originally posted the video of his son giving him an incredibly thoughtful present.
Gouveia posted the video on his TikTok account @daddyfiles and just within three days it garnered over 13 million views. The father of three was incredibly happy to receive such a wonderful gift from his son.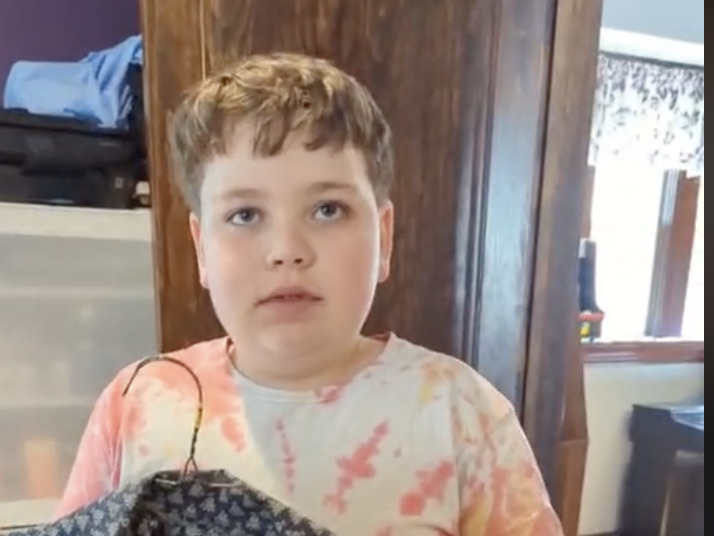 Gouveia said in an interview how his son had been taking sewing classes for over a year and had been inspired by his great-aunt Val to pick up the hobby.
"His great-aunt is [an] unbelievable seamstress. She sews everything. She's been making us gifts our whole life and he thought that was so cool," Gouveia said in the interview. "So for the last few years, she has been showing him how to do things and it got to the point where he wanted to kick it up a notch."
Sam has been learning the craft of sewing at a local store called the Franklin Mill Store. So far the talented nine-year-old has made cat pajama pants for his brother, several scrunchies, a dress for his cousin, a pillowcase, and now a shirt, according to his father.
"I was so impressed and so flattered that he wanted to make it for me," Gouveia said.
"It's really good. It's definitely different. It looks very '70s. It's almost got a leisure suit lapel. But it fit and it was my style," he said of the now-famous navy blue shirt, which has a beautiful intricate floral print with roses.
In the video, the little boy can be seen beaming with pride as he explains how he made the shirt to his father. His father immediately tries it on and gushes with compliments for his son. He tells him how happy he is at receiving the present and praising his son's talent.
Gouveia is the author of books titled "Raising Boys to Be Good Men" and "Men and Miscarriage." He said the night he got the shirt as a present, he wore it to his father's birthday dinner and has plans on wearing it again very soon.
Sam is the only boy in the class but he does not let this deter him at all. "He's the only boy there but he doesn't care. That doesn't stop him. He just loves it," Gouveia said. "[Franklin Mill Store is] such a safe and educational space. We're really grateful to them," he added.
"He's only 9 and he's making these dresses and shirts and pants and pillowcases and scrunchies and things like that. It's really amazing," the proud dad added.
Sam has gone viral in the past as well. On his 9th birthday, his reaction to receiving a sewing machine for his birthday captured millions of hearts across the world. And previously in 2018, he went viral too because he wore nail polish for which he was made fun of but strangers online rallied in support of the young boy.
For now, Sam is hard at work with his sewing. Gouveia said, "He doesn't want his mother to feel left out, so now he's working on a shirt for her too."
We wish the Gouveia family the best of luck! They seem like such wonderful people. Share this heartwarming story with your friends and family to make their day.