Worth an estimated $580 million (£459m), Madonna, the Queen of Pop, has built a chart-topping career in music and reaped the rewards. While she knows how to splash the cash on her extensive $100 million (£79m) art collection, the super-star certainly knows a thing or two about investing in property, too and she's owned some wonderful homes, including this Spanish-inspired Hollywood home. Recently, despite a stint in the ICU brought on by a serious bacterial infection that forced her to postpone her highly anticipated world tour, the 64-year-old 'Material Girl' still managed to successfully flip her three-acre Hidden Hills mansion for $23 million (£18.2m). Click or scroll on and let's take a tour of the pop icon's spectacular real estate collection…
Where does Madonna live?
Getty Images / BEN STANSALL
Madonna has a palatial collection of properties across the world, from Lisbon to New York City, and she is currently recuperating in her New York apartment, following her hospitalization. But the pop star didn't always live in such glamorous holdings. Before her career soared through the 1980s and beyond, where did it all begin for Madonna?
Where did Madonna grow up?
Instagram / madonna
Madonna Louise Veronica Ciccone was born in Bay City, Michigan on 16 August 1958 to parents Silvio "Tony" Ciccone and Madonna Fortin. The third of six children, Madonna grew up in a strict Catholic household full of Catholic iconography that we would later see in the singer's work.
Madonna's childhood home, in Michigan
Redfin
The pop icon grew up in this five-bedroom, three-bathroom detached house in the suburbs of Detroit with her five siblings. Perched on 1.2 acres, we're sure there was enough space for the whole family to enjoy.
Madonna's childhood home, in Michigan
Zillow
Unfortunately, tragedy struck in 1963, when Madonna's mother passed away from breast cancer that had developed during her pregnancy with Madonna's younger sister. Aged five, the singer was raised by her father and stepmother, Joan Gustafson, who had a reportedly traditional and conservative approach, which the star would soon rebel against.
Madonna's childhood home, in Michigan
Zillow
Madge's childhood home was previously listed on eBay in 2001 before enduring a damaging fire that required restorations. Fortunately, the star's childhood home was restored to its former glory. It last sold in 2017 for just over $411,000 (£336k).
Madonna the straight-A student
Michael Ochs Archives / Handout / Getty Images
Pictured in 1972 at Adams High School in Rochester, Michigan, Madonna was said to be a high flyer and very studious, with a disciplined approach to dance lessons and cheerleading practice. Graduating a year earlier than her peers, Madonna gained a full scholarship to the University of Michigan dance program in 1976.
Moving to New York to study dance
Getty Images / Michael McDonnell/RETIRED
During her undergraduate studies at Michigan, the rising star was awarded a six-week scholarship at the Alvin Ailey American Dance Theater in New York City. Her dance instructor convinced Madonna to leave college and move to New York for the sake of her dance career. Here, she's pictured sitting in a dressing room mirror in 1979 in New York City.
Madonna's rise to fame
Getty Images / Mark Downey / Contributor
By the early 1980s, Madonna had formed a pop/dance band called Breakfast Club and started working with her then-boyfriend Stephen Bray on several disco tracks. In early 1982, New York producer Mark Kamins sent her demos to Sire Records and her career rocketed. Madonna's first Billboard 100 hit was the 1983 track 'Holiday', while one of her most iconic songs, 'Like a Virgin', would go on to become her first number-one single in 1984.
Madonna's movie career
Getty Images / Murray Close / Contributor
While the singer's pop career was nothing short of instant success, with more than 300 million records sold, her acting career was perhaps not quite such a hit. After starring in a few films such as Shanghai Surprise and Body of Evidence (pictured) to not so rave reviews, Madonna turned to directing in 2008, but not before she met a certain actor…
Madonna's marriage to Sean Penn
Getty Images / Laura Luongo / Contributor
Meeting on the set of the music video for her track 'Material Girl' in 1985, Madonna fell for actor Sean Penn, whose assistant was working on the shoot. Penn visited the set and it was reportedly love at first sight. They married later that year on Madonna's birthday. But where did they live?
Madonna's New York duplex
Compass
The newlyweds purchased a duplex in Harperley Hall overlooking New York City's Central Park, marking the beginning of Madonna's real estate journey. The Upper West Side apartment would be their home for the extent of their tumultuous marriage.
Madonna's New York duplex
Street Easy
With high ceilings, oak floors and an attractive, landscaped roof terrace and central courtyard, Harperley Hall boasts upscale living in the hustle and bustle of the Big Apple. Unfortunately, the newlyweds' marriage wasn't quite so idyllic, marred by a short prison sentence for hot-headed Sean Penn in 1987, which ultimately culminated in the couple's divorce in 1989.
Madonna's New York duplex
Street Easy
While the marriage may not have lasted, Madonna's investment stood the test of time as she held onto the duplex after the divorce. The singer even went on to purchase two more units in the building, combining them into one huge six-bedroom duplex. Her brother, Christopher G. Ciccone, reportedly designed the space in collaboration with architect Stephen Wang.
Madonna's New York duplex
Street Easy
According to court papers filed by a neighboring Harperley Hall resident, Karen George, she couldn't stand the star's "blaring music, stomping and shaking walls". George went on to file a lawsuit against Madonna in 2009. According to a report in the Daily Mail, it was settled out of court in December 2011. The 'Vogue' singer eventually listed the duplex for $23.5 million (£18.6m) in November 2012, reportedly selling for $16 million (£12.7m).
Madonna's Miami Mediterranean Revival estate
The Assouline Team / Compass
In 1992, Madonna was onto her fifth studio album, Erotica, and had fully embraced her signature risqué aesthetic. She also had her sights set on a rather attractive Mediterranean Revival estate in Miami, snapping up the nine-bedroom mansion for $4.9 million (£3.9m) that year.
Madonna's Miami Mediterranean Revival estate
The Assouline Team / Compass
Sitting pretty on Miami's exclusive Brickell Avenue, the ultra-private gated residence boasts 100 feet of waterfront views over Biscayne Bay and the glittering Miami skyline. The home's impressive interiors span 8,400 square feet, complete with Mediterranean-style architecture and a grand staircase.
Madonna's Miami Mediterranean Revival estate
The Assouline Team / Compass
Intricate millwork hugs the grand coffered ceiling in the great room. From here, you can admire the pristine landscaping across the grounds through the floor-to-ceiling windows. After Madonna decided to sell up in 2000 for $7.5 million (£5.9m), the property saw an even more unique owner…
Madonna's Miami Mediterranean Revival estate
The Assouline Team / Compass
The house hit the headlines in November 2021 when the Associated Press reported that a lucky German Shepherd dog called Gunther VI was gifted Madonna's former Miami estate in his inheritance. It was said that German Countess, Karlotta Leibenstein died in 1992 and willed her entire $80 million (£63.3m) fortune to her beloved pooch Gunther VI's grandfather, but the story later turned out to be an elaborate ruse.
Madonna's Castillo del Lago
Compass
Madonna snapped up this spectacular Spanish-inspired Hollywood home, known as Castillo del Lago, in 1993 for around $5 million (£4m). Complete with turrets, balconies, terraces, and a sparkling pool, the home is a true architectural showpiece. Perched on a ridge and framed by the iconic Hollywood sign, with views of Downtown Los Angeles and Lake Hollywood, the home, which dates to the 1920s, is steeped in old Hollywood history and was one of the first houses to be built in what was then known as 'Hollywoodland', Mansion Global reports.
Madonna's Castillo del Lago
Compass
With its weathered white exterior, terracotta tiled roof, minstrel's gallery, and hanging garden, the home's picturesque exterior evokes a sunny Spanish oasis. The home also boasts not one but two towers – an entry tower featuring both a spiral staircase and an antique wood-paneled lift, and a second tower encompassing the primary suite. Exquisite Spanish architectural details prevail throughout the home's interiors as well, which boast terracotta floors, coffered ceilings, painted exposed beams, colorful tilework mosaics, and Moorish arched doorways.
Madonna's Castillo del Lago
Compass
With 10,513 square feet, the house offers nine bedrooms and six bathrooms, with numerous dramatic spaces for entertaining, lounging, and dining, including a wine cellar and media room. Madonna supposedly invested roughly $3 million (£2.4m) in renovating the home's interiors, importing fabrics and furniture from London, purchasing 16 William and Mary-style chairs and even installing a painting first commissioned for the Palace of Versailles in the living room. With such lush furnishings and exquisite attention to detail, the home is a true showpiece of both interior and architectural design.
Madonna's Castillo del Lago
Compass
Designed by celebrated architect John DeLario, according to the 2007 book Houses of Los Angeles the impressive estate became a local landmark and was supposedly used by gangster Bugsy Seigel as a gambling den in the 1930s. Later, it served as the backdrop for several scenes in the hit 1984 movie Beverly Hills Cop. However, despite its history and all her efforts to decorate it, Madonna parted ways with the property in 1996, just three years after she bought it. But, if you've fallen in love, it hit the property market in February 2023 priced at $21 million (£16.5m).
Like mother like daughter
Instagram / madonna
After her somewhat tumultuous divorce from Sean Penn, Madonna was back on the dating scene for a short while, eventually welcoming a daughter named Lourdes with model and fitness trainer Carlos Leon in 1996. She wouldn't marry again until 2000…
Madonna and Guy Ritchie
Getty Images / Dave Hogan
In the late 90s, the 'Papa Don't Preach' diva began another high-profile romance with actor Guy Ritchie. In December 2000, the pair tied the knot in a private ceremony at Skibo Castle, Scotland. Their first house together was also to be found on Ritchie's stomping ground in the UK.
Madonna's South Kensington apartment
Savills
Residing on a quintessential London mews, the famed lovebirds moved into an apartment together in Queens Gate Mews, South Kensington. Ritchie already owned the Georgian two-bedroom home, which sits just moments from the Royal Albert Hall and Hyde Park.
Madonna's South Kensington apartment
Plum Guide
The duplex was a traditional mews house, with a carriage house below and living quarters on the second floor awash with fresh white walls, large arched windows, and handsome wood flooring. Ritchie and Madonna lived here for three years before selling up in 2003.
Madonna's South Kensington apartment
Plum Guide
With space to sleep up to six, the 780-square-foot residence is now available as a rental through Plum Guide for a minimum of four nights. The home's décor has no doubt seen plenty of changes over the years since Madonna's tenure, but its key historic features appear to be unchanged. If walls could talk…
Madonna's South Kensington apartment
Plum Guide
The Georgian mews were also used as the backdrop for scenes in Ritchie's film, Layer Cake. In 2000, the same year the A-list couple tied the knot, they had a son named Rocco. It was sure to have been a busy household, and the growing family must have needed more space…
Madonna's historic Wiltshire mansion
Getty Images / David Goddard
In 2001, the high-profile duo snapped up historic Ashcombe House in Wilshire, England for approximately $11 million (£8.7m). The 18th-century mansion was originally owned by Cecil Beaton and in decades gone by, it was a high-society hot spot for the famous faces of the time such as Salvador Dalí, Whistler, and Lady Diana.
Madonna's historic Wiltshire mansion
Instagram / Jacqui Ritchie
Alongside the main brick mansion, the 1700s estate also includes a dairy house, stables, and an 18th-century orangery, plus plenty of original fireplaces throughout. Surely this formed the backdrop for a blissful and cozy life together?
Madonna's historic Wiltshire mansion
Instagram / Jacqui Ritchie
Nestled in the Dorset landscape, the grounds look out over stunning sunsets and epic countryside vistas. Madonna told Vogue in 2005 that she and Ritchie "just fell in love with [the property]. In the summertime, it's the most beautiful place in the world." Unfortunately, the marriage wasn't as beautiful as the view, with a messy and public divorce played out through a media storm in 2008. Ritchie won Ashcombe House in the divorce settlement and still lives there today.
Madonna's Sunset Boulevard estate
MLS / Estately
Before the infamous divorce real estate battle took place, the wedded pair bought up this expansive French country-style Beverly Hills estate in 2003. With eight bedrooms and 14 bathrooms, plus two guest houses, there was no shortage of space in the vast estate.
Madonna's Sunset Boulevard estate
MLS / Estately
Purchased for $12 million (£9.5m), this Sunset Boulevard residence sits at the end of a 500-foot gated drive, nestled amongst 1.14 private acres. Towering ceilings in the reception rooms lend an air of grandeur to the mansion, while double-height windows bathe the living spaces in light.
Madonna's Sunset Boulevard estate
MLS / Estately
As well as eight bedrooms to choose from, inside you'll find a 15-seat home cinema, surround-sound systems in four additional television viewing areas, a state-of-the-art fitness center, seven fireplaces, a full professional bar, and even staff quarters. Outside, more amenities await, including tennis courts and a swimming pool.
Madonna's Sunset Boulevard estate
MLS / Estately
Madonna eventually listed the manse for $28 million (£22.2m) in 2012 before selling up in 2013 for $19.5 million (£15.4m). Last sold for $29.5 million (£24.2m) in August 2021, the French country estate received an extensive remodel with automated smart home features and designer kitchen fittings.
Madonna's New York Townhouse
Sotheby's International Realty
In the aftermath of her divorce from Ritchie, the music legend returned to New York and laid eyes on a sprawling 13-bed Georgian townhouse on the Upper East Side. Splashing out a whopping $40 million (£31.7m) in 2009, the singer sure had a pad to call home.
Madonna's New York Townhouse
Sotheby's International Realty
The reigning Queen of Pop's New York residence is made up of three combined townhouses measuring 57 feet across. It's said to be one of the widest houses on the Upper East Side. Classic Georgian-style features can be found throughout, from rich hardwood flooring and ceiling crowns to nine restored fireplaces.
Madonna's New York Townhouse
Sotheby's International Realty
As well as 13 bedrooms and 14 bathrooms, the large residence also hosts a wine cellar, a double-car garage, and a 3000-square-foot garden bordered by trees, rhododendrons, and roses. According to reports, Madonna still owns the impressive post-divorce pad. We're not surprised.
Madonna's Hamptons horse farm
@madonna / Instagram
As well as splurging on the townhouse, Madge also decided to snap up a horse farm in the New York playground of the Hamptons later that same year. Part of the $7.2 million (£5.7m) 60-acre equestrian estate belonged to Calvin Klein's ex-wife Kelly Klein. The expansive spread includes six bedrooms, a heated pool, and a spa. It was a brave move, given that she had cracked three ribs and broken her collarbone after being thrown from a horse in 2005.
Madonna's 18th-century Portuguese palace
Daniel Arrhakis / Flickr [CC BY-NC 2.0]
Known locally as the Quinta do Relógio, this historic Moorish Revival palace in Sintra, Portugal is a UNESCO World Heritage site. The palace dates back to the 18th century and was designed by architect Antonio Manuel da Fonseca Jr. and built in a neo-Arabic style. Madonna purchased the palace in 2017 for a reported $8.9 million (£7m).
Madonna's 18th-century Portuguese palace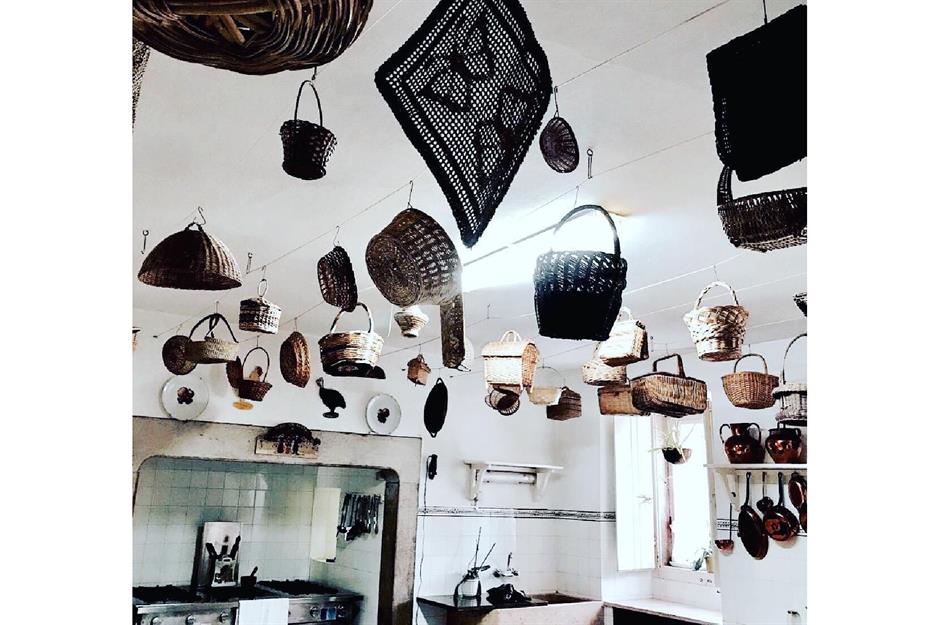 @madonna / Instagram
The beautiful old mansion is nestled in the scenic Sintra mountains and offers 16,146 square feet of living space with four bedrooms, seven bathrooms, a guesthouse, and a caretaker's cottage. Here we can see the kitchen, which features an array of hanging pots, as posted to Madonna's Instagram.
Madonna's 18th-century Portuguese palace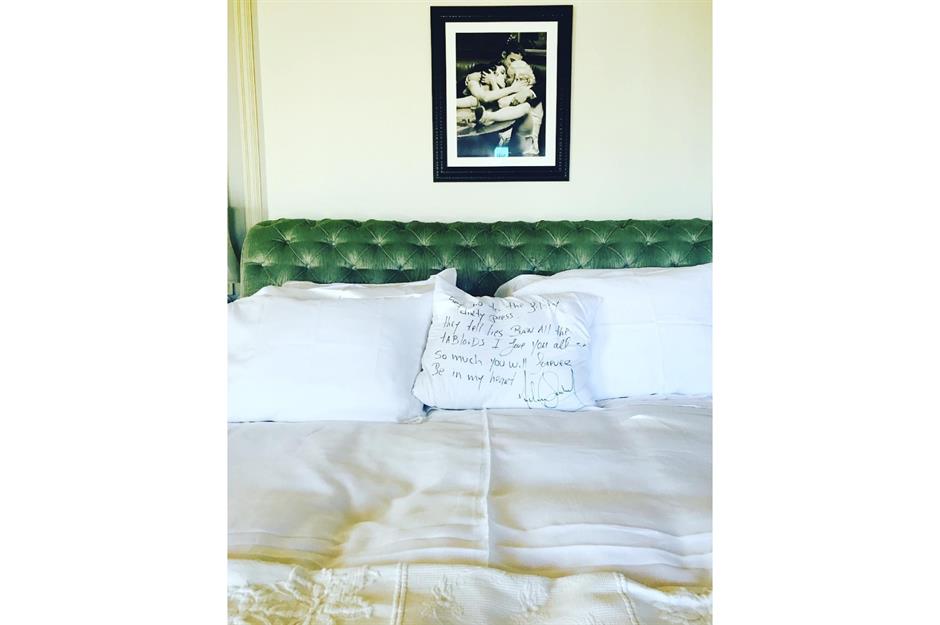 Instagram / @madonna
Another photo from the icon's Instagram account shows her bed dressed with a pillow signed by Michael Jackson and a framed picture of actress and long-time friend Debi Mazar, who appeared in several of Madonna's music videos, including 'Papa Don't Preach'. The caption read: "Every night I share my bed with Michael Jackson and Debi Mazar!"
Madonna's 18th-century Portuguese palace
Instagram / madonna
The romantic garden boasts its lake and fountains surrounded by a plethora of rare vegetation and trees. The 'Holiday' hitmaker is said to have fallen in love with Portugal after visiting with her children. Her son David Banda, who she adopted from Malawi, joined the Benfica football team youth academy, which reportedly prompted the move.
Madonna's Beverly Hills lockdown rental
realtor.com
While the 'American Pie' singer spent the first few months of lockdown in her Portuguese palace – and who could blame her? – she must have missed her US roots. Madonna returned stateside and decided to plump for a rental property in Beverly Hills. But it wasn't just any rental…
Madonna's Beverly Hills lockdown rental
realtor.com
With an estimated monthly rent of $120,000 (£95k), this three-structure estate was originally built in the 1940s for actor Bert Lahr. The ornate home was designed by acclaimed high-society architect Paul Revere Williams. The rental has since been inhabited by the likes of Paul McCartney, Alan Ladd Jr., and the Osbourne family.
Madonna's Beverly Hills lockdown rental
realtor.com
The 'Borderline' performer would have been kept very entertained throughout lockdown here, enjoying 15,000 square feet of lavish living space. This luxurious floor plan includes a billiard and games room, a VIP bar, and even this remarkable wood-paneled two-lane bowling alley.
Madonna's Beverly Hills lockdown rental
realtor.com
What's more, in the warmer months the diva may have played a spot of golf on the putting green, kept up her grueling fitness regime in the swimming pool, and relaxed in the Californian estate's spa.
Madonna's Hidden Hills mansion
The Beverly Hills Estates
In April 2021, Madonna purchased this sprawling seven-bedroom estate in the Hidden Hills region of Los Angeles County, amid the scenic Santa Monica Mountains. Featuring regal columns and elegant shuttered windows, it's one of the area's stand-out mega-mansions. Madonna snapped up the home from none other than fellow pop star The Weeknd for $19.3 million (£15.8m).
Madonna's Hidden Hills mansion
The Beverly Hills Estates
The lot occupies a prestigious position in the neighborhood, which is a favorite among Hollywood's elite, with Kylie and Kris Jenner and Nicki Minaj among the enclave's most well-known residents. Set on nearly three acres, the residence encompasses a vast multi-building compound featuring every amenity an A-list star could ask for. Madonna is said to have left her mark on the property, having undertaken numerous renovations to the house over her short tenure there.
Madonna's Hidden Hills mansion
The Beverly Hills Estates
The main house is the estate's crowning glory, spanning an enormous 12,547 square feet. Entry to the residence is via an impressive double-height hall adorned with white marble and black Crittall windows that flood the space with light. A minimalist, black-and-white color palette extends throughout the scheme, accentuated by streamlined, architectural furniture.
Madonna's Hidden Hills mansion
The Beverly Hills Estates
Indoor-outdoor living is key to the home's design and many of the reception rooms feature retractable glass doors that recess back into the walls, creating a seamless connection between the grounds and indoor living areas. Ever the entertainer, the house has no doubt provided a backdrop for plenty of Madonna's parties too – there certainly isn't a shortage of space for soirées. Across the ground floor, there's a formal dining room, great room, bar, glass-lined wine cellar, and chef's kitchen, as well as a movie theatre and music lounge.
Madonna's Hidden Hills mansion
The Beverly Hills Estates
When it comes to unwinding, there's a total of seven ensuite bedrooms in the main residence, each decked out in sumptuous fixtures and high-end materials. The lavish primary suite, likely occupied by Madonna herself, includes a steam shower, stone bathtub, and dual closets for all the singer's elaborate outfits. During her time at the house, Madonna was seeing her former long-term boyfriend, dancer Ahlamalik Williams, who she vacationed with in Italy in August 2021 with her family. The pair reportedly broke up in 2022, after three years together.
Madonna's Hidden Hills mansion
The Beverly Hills Estates
Across the three-acre grounds, there's a host of other beautifully appointed outbuildings and amenities. These include a two-bedroom guesthouse with two bathrooms and a full kitchen, along with a resort-style swimming pool, a 10-person spa, an outdoor kitchen, and a basketball court, all encircled by the picturesque rolling hills.
Madonna's Hidden Hills mansion
The Beverly Hills Estates
Pictured here is the expansive barn, which Madonna reportedly renovated into a gym and Pilates studio. Despite the estate's numerous selling points, the star has struggled to shift the property in recent years. Back in April 2022, a year after purchasing the house, Madonna reportedly listed it for just under $26 million (£20.6m), but no takers came forward. Almost a year later, the residence was back on the market for the reduced sum of $23.5 million (£18.5m), and now the palatial pad has finally found a taker at $23 million (£18.2m). The new owner is said to be Kim Hyoung-nyon, a Korean crypto billionaire, who made last year's Forbes list of Korea's 50 richest net-worth individuals.
What's next for Madonna?
Frazer Harrison / Staff / Getty Images
With reports that while Madonna is out of hospital, following a serious bacterial infection, the star is far from well again. She is reportedly recovering in her New York City apartment, yet TMZ reported that she is "still too sick to get out of bed" and sources say she's "been vomiting uncontrollably since being discharged from the hospital". The singer was due to begin her shows in Canada this month but is thought to be scaling them back. Unsurprisingly, the opening date of her The Celebration Tour still hangs in the balance, while she makes a full recovery. A grueling work schedule is said to have contributed to the illness, with the singer reportedly "constantly pushing herself" in recent weeks. Let's hope the star makes a full recovery and can rest and recuperate in the amazing homes she has picked up over the years.