What's your retirement plan?
That's a question most folks don't think of that much.
Even those who are nearing their retirement years. If you are in your twenties or thirties, now would be a good time to dwell on it.
And if you need some inspiration or ideas, check out Michelle "MJ" Boyle.
Michelle is a mother of two, and when her kids started going to college and entering adulthood, she realized she had no retirement plan.
So defying her age and all the stereotypes that come along with it, she created a new home for herself.
"My life has been a series of unfortunate events. I have been married twice. I have been divorced twice. I've built two houses and I lost the houses basically in the carnage of my divorces."
Michelle has had quite a life. She's been a single mom for 13 years, living from paycheck to paycheck, like most of us.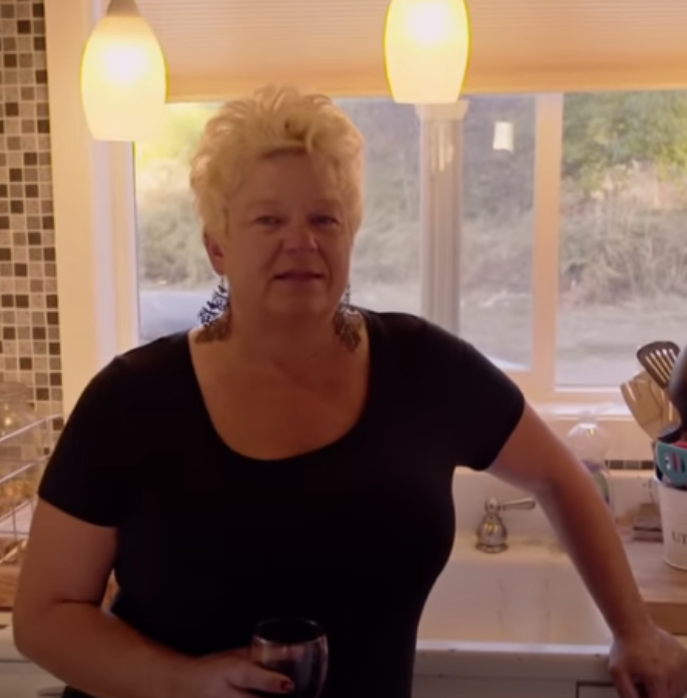 She didn't have the money to buy a new house but being the savvy woman that she is, this lady got into building another home once again.
It was different from the first two which is probably a good thing. A new house should be refreshing.
The project came to be from cash donations and sponsorships which she put to good use as you'll see.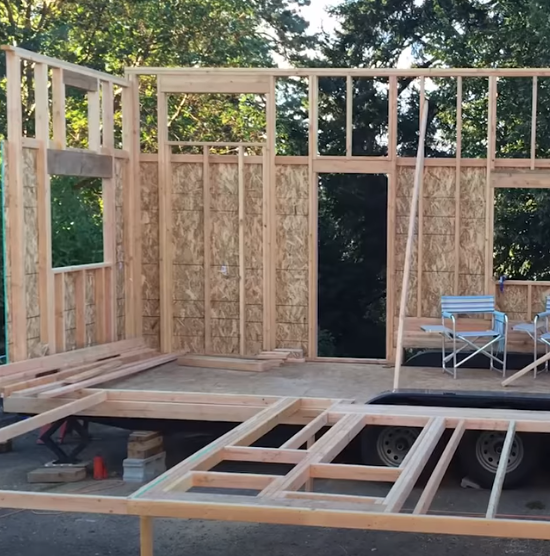 Michelle has plans of building more for AirBnB purposes.
The house is 8 1/2 feet wide and 24 feet long. Michelle got some help from friends but did most of the work herself.
It's a cozy, quaint little home, looking perfect for someone who just wants to enjoy their remaining years with a warm cup of coffee.
Her favorite part is the kitchen. Where most people would sacrifice space and style when building a small kitchen, Michelle's work has resulted in a fantastic-looking kitchen with the 1940s and 50s as her influences.
She says it's a labor of love with modern nostalgia as her design theme.
Michelle puts the kitchen to good use as well. She cooks and entertains a lot!
The stairs are an integral part of the house. It stands out even among the many cool design features of her tiny home.
Though Michelle admits that they are too narrow and if she could do them over again, the stairs would be wider.
Check out her bedroom. Neat, huh?
It has 4 more inches of headroom as compared to the guest loft. Yes, she has a guest loft. The quilt holds a special place in Michelle's heart. It's made from all the fabric that her grandmother gave her before she passed away.
Where most people throw cushions and pillows over boxes and call it a living room, Michelle went for the real stuff.
It's got an entertainment center, a nice table, and actual living room chairs. For maximum style and comfort.
Those chairs have storage spaces underneath them too. Then there's a table that's tucked away neatly, you wouldn't notice it but works well for dining and work space purposes.
Notice the colors and patterns on the ceiling, walls, and furniture. Nicely done!
The bathroom uses a glass door. It's not something you usually see for obvious reasons.
But she is alone, and the glass door adds light to the smaller space, giving an illusion of an airy room. Besides, there's a curtain when she needs privacy.
Michelle says she regularly holds parties.
She can do some of her laundry but prefers to have her jeans and towels done by her kids. She calls her daughter her "laundry fairy" as her laundry appears on her front porch all clean and folded.
Michelle is very much adept at creating space and maximizing an area without making it look cluttered or disorganized.
She admits that she has a lot of clothes, shoes, and earrings but that it doesn't mean she has to sacrifice being a girl. What a lady!
An unusual guest decided to make an appearance too. A frog that she named "Ralph". Michelle suspects that the slimy hopper crawls up the drain pipe. She takes Ralph back out to the woods but in 2 or 3 days, Ralph comes back to hang out in the shower.
Her sink is hand carved and made of marble. Told you she's got style.
Michelle also takes care of all the waste. She did her research and can segregate and filter all the waste properly.
This lady had to finance her build in such a way that it would not affect her paycheck-to-paycheck lifestyle.
She bought an old vintage RV from a neighbor, put $700 into it, and sold it for $3,700. That's just one among the many other things Michelle had to do to make money up until she discovered sponsorship.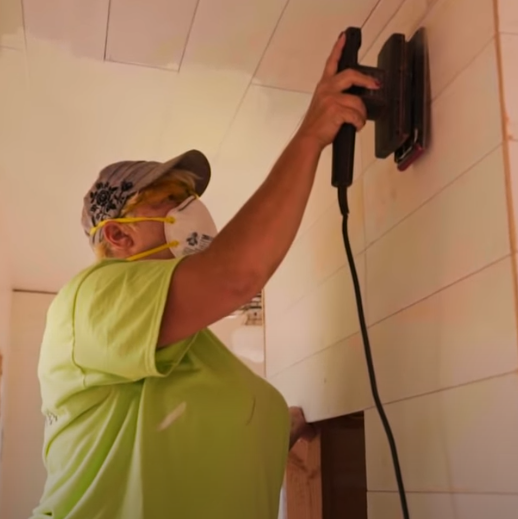 The best part is that at her age, Michelle found her people. She says she never really found that sense of home. Michelle grew up in foster care, narrating that her birth parents divorced when she was 4 which meant that she entered foster care as a toddler. She got adopted in her teenage years but left at the age of 18.
She is now estranged from her adopted family. What she's doing is making it all work.
It may be under the radar but Michelle and her friends can make it work by supporting each other, doing their best to live without necessarily conforming to society's standards.
The best part of all this? Michelle is one cool lady.
Check out Michelle's little retirement home in the video below!
Please SHARE this with your friends and family