Former President Donald Trump has officially been indicted by a New York grand jury.
On Monday, Trump arrived in New York City facing 34 counts related to business fraud. On the private plane were several of Trump's closest aides and also his son, Eric Trump. Donald's wife, Melania Trump, and his youngest son, Barron, however, were nowhere to be seen.
Melania has reportedly decided not to join her husband on his campaign trail as he aims to once again become the Republican presidential candidate in the 2024 election.
Now, her husband will stand trial for his alleged role in the hush-money payment scheme and cover-up involving adult film star Stormy Daniels before the 2016 election. According to a former White House aide, Melania doesn't want anything to do with the trial – and is unlikely even to show up to support him.
Unless you've been living under a rock, you'll be aware that former president Donald Trump has been indicted by a Manhattan grand jury. The investigation concerns the alleged "hush money" payment of $130,000 handed to adult film star Stormy Daniels in 2016.
The Manhattan District Attorney Alvin Bragg's office confirmed the indictment in a statement on Thursday. It makes Donald Trump the first former president to be charged with a crime in US history. Trump is facing 34 felony counts for falsification of business records.
Donald Trump has been charged
After the indictment was made public, Trump released a statement describing it as a "witch-hunt" that will "backfire massively" on President Joe Biden.
"The American people realize exactly what the Radical Left Democrats are doing here. Everyone can see it. So our Movement and our Party – united and strong – will first defeat Alvin Bragg, and then we will defeat Joe Biden, and we are going to throw every last one of these Crooked Democrats out of office so we can MAKE AMERICA GREAT AGAIN!" Trump wrote in the statement.
The former president left his Florida home on Monday and traveled to New York City on his private jet. Several of his closest aides were onboard, including his son, Eric Trump. However, his wife, Melania, was not there. According to reports, she will not support her husband in person.
Trump stayed the night in his apartment in Trump Tower and was arraigned in person on Tuesday. The arraignment usually takes several hours; typically, a defendant will get their fingerprints and a mugshot taken. Donald Trump then went before a judge to hear the charges against him – and pleaded "not guilty."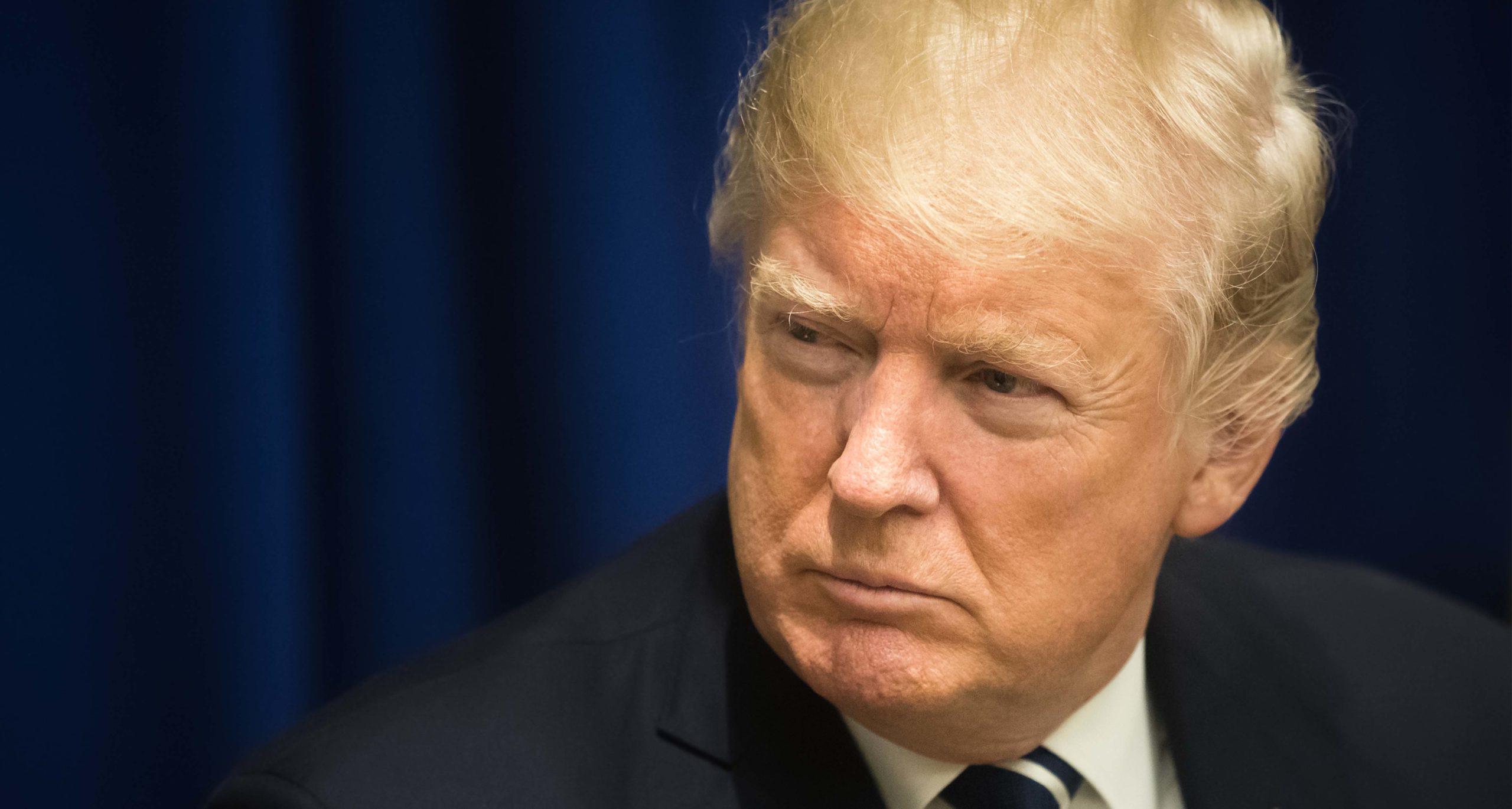 A source "who has been briefed on the procedures for the arraignment of the former president" told Yahoo that Trump was not put in handcuffs, placed in a jail cell, or forced to have a mugshot taken.
No cameras were allowed in the courtroom
The Secret Service and New York Court officials had concluded, together with Manhattan District Attorney Alvin Bragg's office, that there was no reason to do so. The main reason for handcuffing a defendant is that they may pose a risk or threat. However, Donald Trump was not judged to be either, primarily as Secret Service agents usually protect him.
As per a letter to Judge Juan Merchan, Donald Trump's team argued that requests for cameras in the courtroom should be denied "because it will create a circus-like atmosphere at the arraignment, raise unique security concerns, and is inconsistent with President Trump's presumption of innocence."
So what has happened? Let's take a closer look at Donald Trump and Stormy Daniels' history.
In a 2018 60 Minutes interview, Daniels recalled meeting Trump for the first time in July 2006, at a celebrity golf tournament at Lake Tahoe, Nevada. He invited her to dinner and they met in his hotel suite.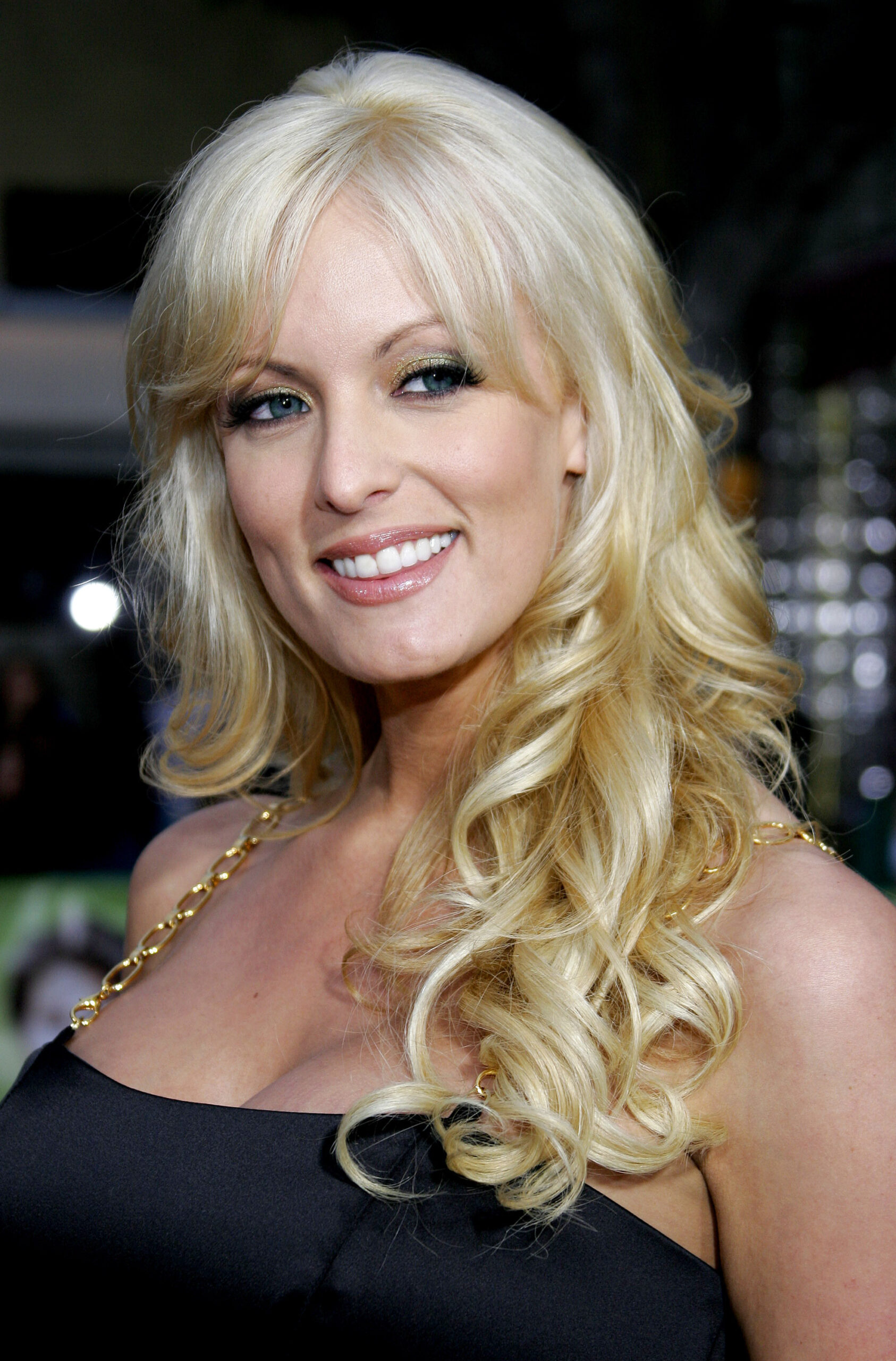 It was there that the two had sexual intercourse. At the time, Daniels was 27, and Donald Trump was 60.
What happened between Donald Trump and Stormy Daniels?
The then-The Apprentice star invited the adult movie entertainer to a Trump Vodka launch Party in California and again to his Trump Tower office in New York.
"He never asked me not to tell anyone. He called several times when I was in front of many people, and I would be like, 'Oh my God, he's calling,'" Daniels recalled in her 60 Minutes interview.
"They were like, 'Shut up, the Donald?' And I'd put him on speakerphone, and he wanted to know what I was up to and, 'When can we get together again? I just wanted to give you a quick update, we had a meeting, and it went great. There's– it's gonna be spectacular, they're totally into the idea,' and I was like mhmm that part I never believed."
Just months before Stormy and Donald's first meeting, Melania Trump had given birth to her and Donald's son, Barron.
"I asked [about Melania and Barron]. And he brushed it aside, said, 'Oh yeah, yeah, you know, don't worry about that. We don't even– we have separate rooms and stuff.'"
A year after they first met, Trump is said to have invited Daniels to his bungalow at the Beverly Hills Hotel in Los Angeles. There, he tried to convince her to be a contestant on the spin-off show Celebrity Apprentice. It didn't happen – but five years later, she told her side of the story.
Daniels sat down with a sister publication to In Touch Magazine, where she revealed how she had met Donald Trump. Daniels was paid $15,000 for the interview, though it never went to print.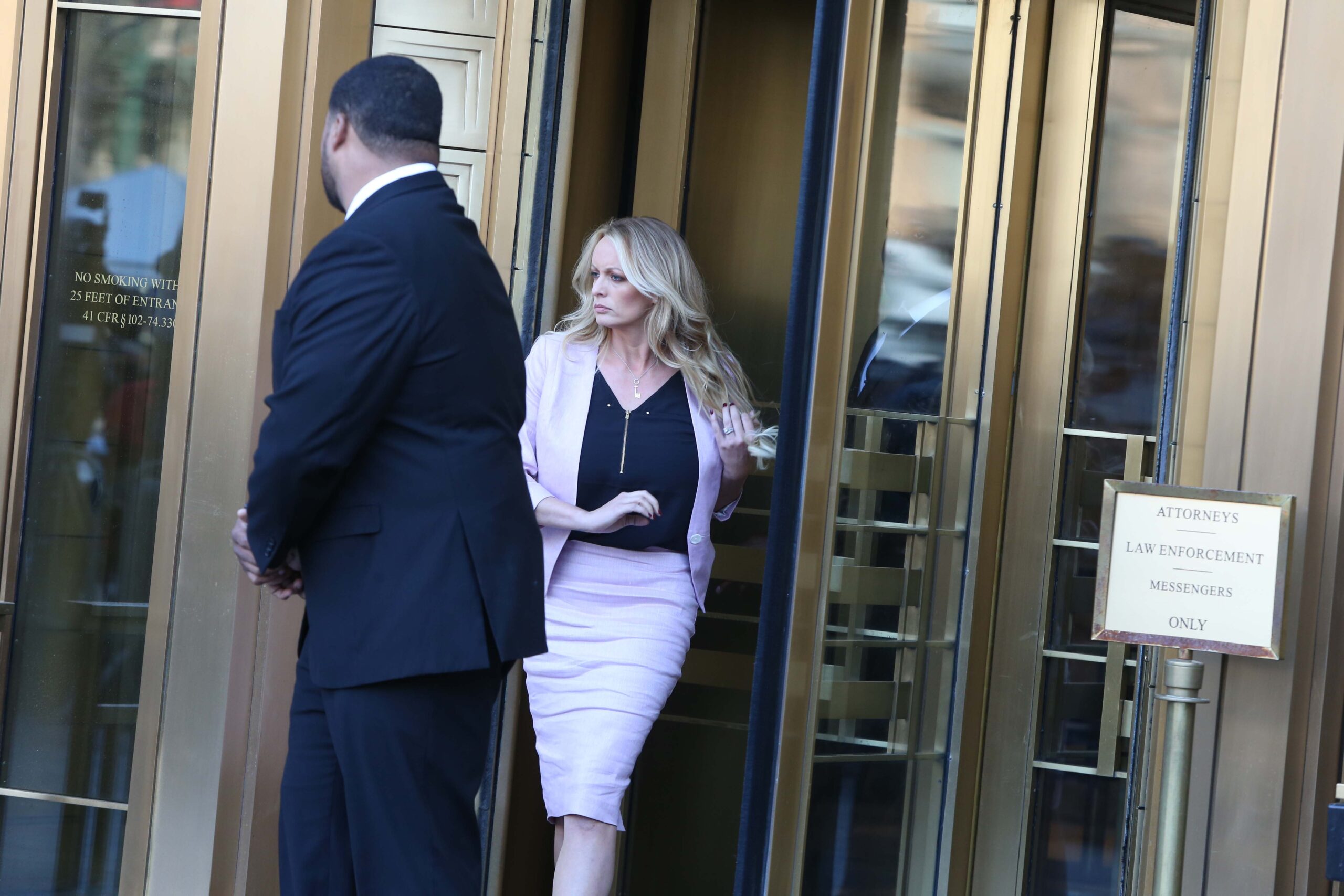 As per reports, Donald was approached by the magazine for comments and found out. As a result, his attorney, Michael Cohen, threatened to sue the magazine.
"It'd be a shame if something happened to her mom"
Daniels never got paid for the interview. Just weeks later, she was approached by a man in Las Vegas who threatened her.
"I was in a parking lot, going to a fitness class with my infant daughter. T– taking, you know, the seats facing backward in the backseat, diaper bag, you know, gettin' all the stuff out. And a guy walked up on me and said to me, 'Leave Trump alone. Forget the story,'" Daniels told Anderson Cooper on 60 Minutes.
"And then he leaned around and looked at my daughter and said, 'That's a beautiful little girl. It'd be a shame if something happened to her mom.' And then he was gone."
In 2016, Donald, via his attorney Michael Cohen, paid Daniels $130,000 in return for signing a non-disclosure agreement about their encounters. According to CBS, she signed the agreement only eleven days before the 2016 Presidential election, which Trump won.
Stormy Daniels was born in Baton Rouge, Louisiana, on March 17, 1979. Her real name is Stephanie Clifford, and for more than two decades, she's been writing, directing, and acting in adult films.
When she and Donald met at the aforementioned celebrity golf tournament, Daniels was one of the most popular actresses in the adult film industry. She's been married three times and has a daughter, Caden, born in 2011.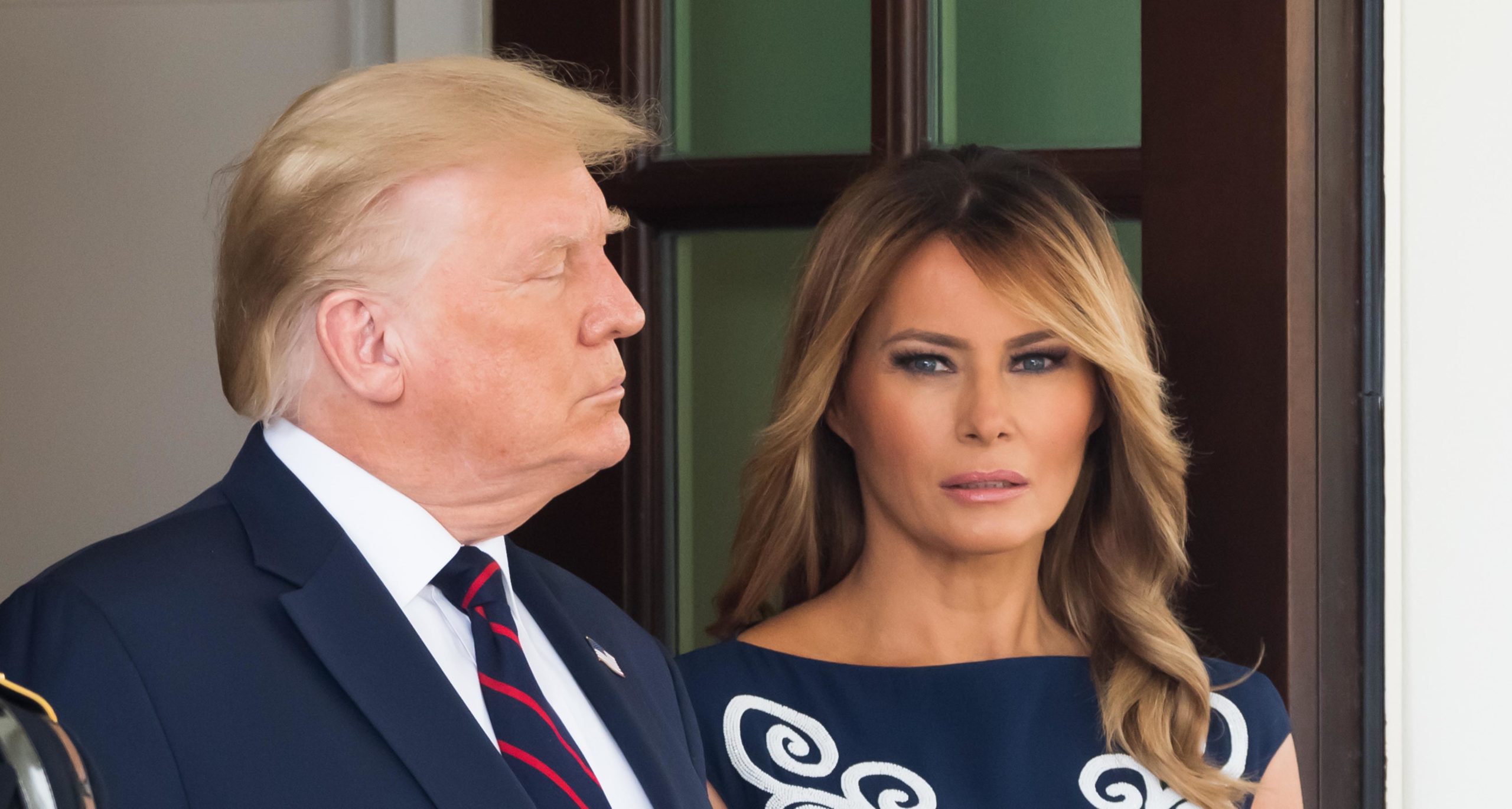 Only time will tell what will happen to Donald, and whether or not he will face punishment. One thing that's been made clear, though, is that his wife, Melania, doesn't seem interested in supporting her husband in the courtroom.
Melania Trump "remains angry" at Donald
According to People, the former First Lady has continued to live her life at Mar-a-Lago.
"Melania is leading her own life and still feels happy being at Mar-a-Lago, surrounded by people who love her and who never talk about reality or bad things about her husband," a source told the news outlet.
Since leaving the White House, Melania has lived with her husband and son, Barron, at the Palm Beach estate. Their 17-year-old son is going to school in the area, but no one knows exactly what Melania is up to.
While she reportedly enjoys life in Florida, she doesn't support her husband regarding the hush-money payment trial.
"She remains angry and doesn't want to hear [the alleged hush money payment] mentioned," the source told People. "She is aware of who her husband is and keeps her life upbeat with her own family and a few close friends."
The next hearing in the Trump case is currently set for December 4. According to former White House aid Stephanie Grisham, Melania will most likely not support her husband in the courtroom.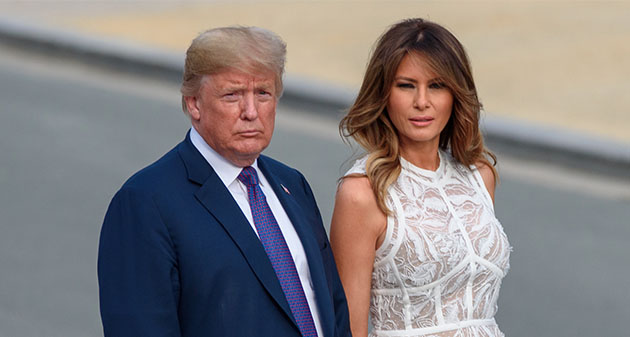 Melania's former Chief of Staff told Inside Edition that Melania doesn't have any sympathy for her husband.
Melania Trump unlikely to support her husband
"I would be very, very surprised. I would be very surprised to see her in court," Stephanie Grisham said. "Because it has to do with Stormy Daniels. It's just not in her to stand by her man for something like that."
"She's not lending him a whole lot of moral support, and I'm sure she's still thinking: 'You got yourself into this mess. I'm certainly not going to walk beside you and support you as you try to get out of it,'" she added.
Moreover, Stephanie said that Melania was disgusted with Donald when she first found out about his alleged affair with Stormy Daniels.
"She always said to me, 'This is his problem,'" Grisham recalled.
Even if Trump were to be found guilty in the trial, it wouldn't stop him from running for president once again. Yet it seems as though he'll likely be doing that without the support of his wife.
According to CNN, Melania has told several friends that she doesn't intend to become First Lady for a second time – she's done with living in the White House and instead wants a more private life.
"Being the first lady again is not what she wants," one person close to the Trump family told CNN back in September.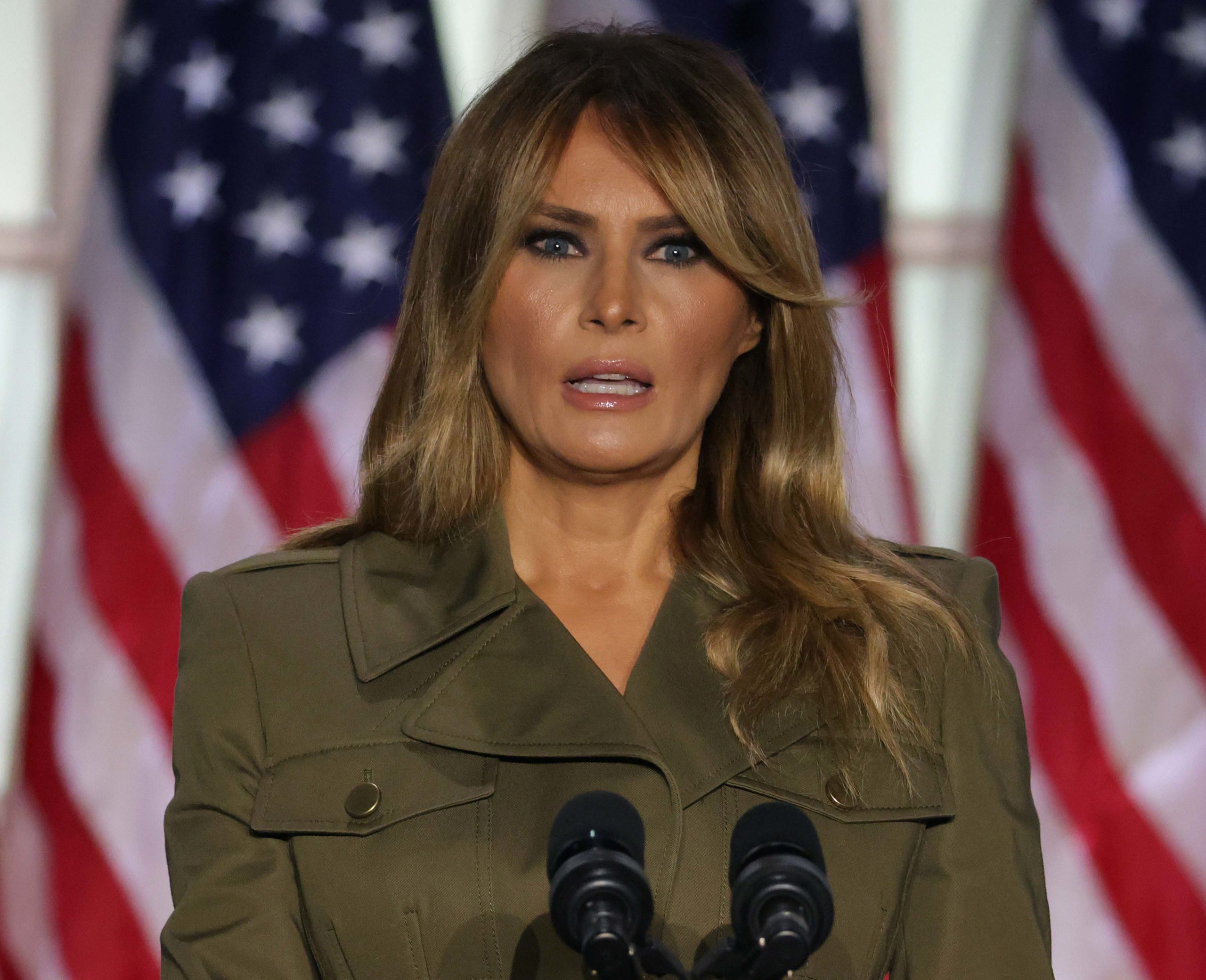 "For her, it was a chapter — and it's over, and that's that."
"She doesn't like being in the news"
Furthermore, Melania doesn't believe that political work for the Republican Party is her job, but rather her husband's.
"You're not going to see her at rallies or campaign events, even if he 'officially' says he's running again," another person said.
"Instead it's going to be Lara (Eric Trump's wife) or Kimberly Guilfoyle (Donald Trump Jr's girlfriend). They have that same urge Trump has to run again; Melania does not."
CNN correspondent Kate Bennett told Anderson Cooper that Melania dislikes "being in the news" and wishes not to have her name associated with her husband's rants.
"Showing up in a news story is not something the ultra-private Melania Trump enjoys And Trump was soon apologizing on Truth Social to her for what he called 'made up' stories about her involvement," Bennett said on CNN.
"She doesn't like being in the news. She certainly doesn't like her name being attached to the rants and ravings of her husband," Bennett later told Anderson Cooper.
Bennett added that Donald and Melania's relationship isn't in the best place at the moment. And as for the presidential campaign, Donald might even travel alone.
"Things are a little chilly in that area just now," she said. "I don't think she has any intention of being on the campaign trail."
What do you think about the indictment against Donald Trump?
Please, share this article on Facebook with friends and family and give your opinion!